ConneX – The Indexable Forkend Truss
Through our product development cycle the XSF team is persistently keyed in on producing product characteristics that will have a lasting positive impression on the end-user.
These characteristics or customer benefits include saving time and money.
When our team of design engineers set out to create a new indexable fork end connection they targeted simplicity, strength, ease of use and versatility.  The result is the patent-pending, "ConneX", the latest innovation from XSF.

This Indexable Forkend Truss is quick and easy allowing the user to seamlessly adapt and change the configuration of the forkends without skipping a beat. This simple "maneuver" is completed without the use of any tools by simply rotating the fork end 90 degrees by hand.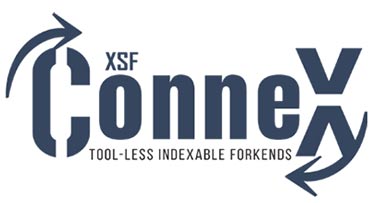 In seconds, the fork ends can change from a horizontal positioning to a vertical configuration.
ConneX also has the added bonus of cost savings.  By rotating the IFE to a horizontal position, a typical 4-way corner block can be eliminated by connecting 4 pieces of truss together.  Watch the ConneX Indexable Forkend Video to Learn More.
XSF has additional gates are available to create 2-way, 3-way, and wedge style corner blocks.   Take a look at our most recent product video of IFE and see for yourself.
What are the Benefits of this Indexable ForkEnded Truss?
Versatility that allows a quick reconfiguration 
A Tool-Less Innovation
Simple
Fast and Easy
Eliminates the Need and Extra Cost of Corner Blocks
Additional ConneX Product Notes
Available in both standard and heavy duty strength.
Standard Indexable Forkends match the strength of our standard fork ends utilizing the same load tables.
Heavy Duty Indexable Forkends can be used when higher load ratings, longer spans, or larger trusses are required.
ConneX Indexable Forkends can be substituted in place of standard fork ends in any size XSF truss.