Contact Us at 903-438-1100 for custom size cabinets or custom disinfection applications.
UV Sterilizer and Disinfection Cabinet
The XSF – UV Sterilizer and Disinfection Cabinet (UVSD) is a portable cabinet equipped with UV-C lights that kills up to 99.9% of bacteria and germs on items placed in the cabinet in minutes. The UVSD includes hanger bars and hooks to suspend items for full 360-degree disinfecting. Heavy-duty stainless steel construction with locking casters make it easy to relocate the larger cabinet models.

 The XSF UVSD kills up to 99.9% of the following key pathogens potentially transmitted via respiratory droplets in minutes:
Covid19 – Coronavirus*
Mycoplasma (pneumonia)
Staphylococcus Aureus (Staph Infection)
Influenza – A (flu)
And Many More. See the Expanded Kill Chart at the bottom of this page.
How to Operate the XSF-UVSD-04
*The National Academies of Sciences, Engineering and Medicine reported that ultraviolet light more than likely can kill the coronavirus based on scientific evidence that UVC light can destroy viruses, including Severe Acute Respiratory Syndrome (SARS), MERS-CoV, and other coronaviruses related or similar to COVID-19.  Many hospitals and municipalities have adopted the use of UV light for the sterilizing and disinfection of hospital rooms, subways, and public transit.
Contact us at 903-438-1100 for custom size cabinets or custom disinfection applications.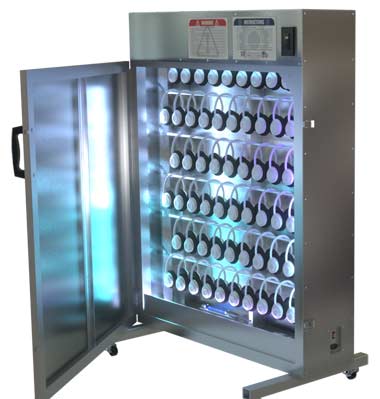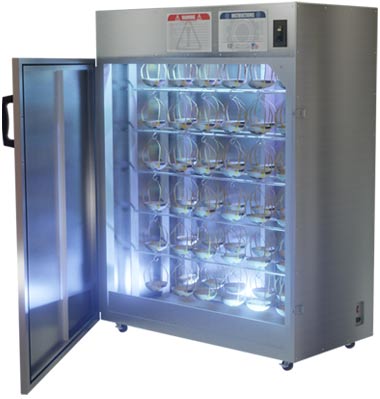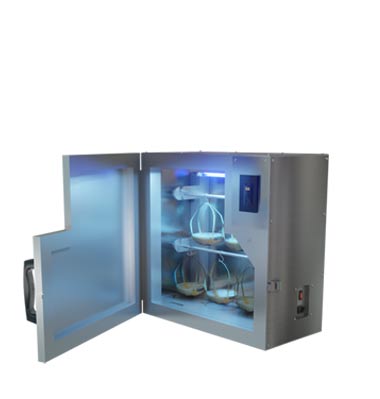 XSF-UVSD-20
Disinfecting up to 36 masks/items at a time in a 10 minute Cycle
Features 20 cubic feet of interior space; 60"x 48"x 12"
XSF-UVSD-40
Disinfecting up to 72 masks/items at a time in a 10 minute Cycle
Features 40 cubic feet of interior space; 60"x 48"x 24"
XSF-UVSD-04
Disinfecting up to 8 masks/items at a time in a 5 minute Cycle
Countertop model featuring 4 cubic feet of interior space; 24"x 24"x 12"
UV Sterilizer and Disinfection Cabinet MODELS
60"x 48"x 24"
40 cubic feet of interior space
Capable of disinfecting up to 72 masks small items or electronics at a time
10-minute cycle Timer with automatic shutoff
Heavy Duty Casters for easy mobility
Automatic safety shut off switch
230 lbs
Stainless Steel Shelves are available for $55. each upon request.
UV Sterilizer and Disinfection Cabinet USES
Items that can be disinfected in the UVSD Cabinet do not only include masks. Below is a sample list of items that may be disinfected as well:
N95 Masks
Disposable, Cloth, or Homemade masks
Cell Phones
Tablets
Keys
Cash money
CPAP/ Respiratory Equipment
Remote Controls
Clip Boards
Lab or Kitchen Utensils
Electronics
Items regularly handled by patients, employees, or customers
Office Supplies – mouse, calculator, pens, keyboards, etc.
Lab Coats
Hats / Gloves / Shoes / Work Clothes
Baby Bottles & Supplies
Children's toys
Handheld Scanner/Radio
Any item placed in the cabinet!
 Potential UVSD Users & Locations
There are many users or potential locations that can benefit from the UV Sterilizer and Disinfection Cabinet. Some include but are not limited to:
Hospitals
Fire Stations
First Responders
Companies with employees wearing masks daily
Pharmacies
Restaurants
Hotels
Airports
Churches
Dentist office

Supermarkets/Grocery Stores
Laboratories
Residences
Daycare Centers
Tattoo Studio
Manufacturing Plants
Food Processing
Government Offices
Salons
Gym / Fitness Centers
Schools
UV Sterilizer and Disinfection Cabinet Instructions
Plug in the UV Sterilizer and Disinfection Cabinet to a power supply source
Clean masks or items of debris, makeup, or any other substance that would prevent light from contacting the surface
Hang masks or items from the hooks provided with the cabinet. Items may be placed directly in the cabinet, or maybe placed in clear plastic bags, or in a lightweight net and then suspended from the hanger bars.
Items should be spaced apart so they are not touching in the UVSD to allow for full 360- degree disinfection.
Close the door and ensure it is securely fastened shut. Do not operate the UVSD with the door open.
Push the button on the automatic timer to start the cycle. The timer will count down from 10 or 5 minutes (depending on unit type). Leave the door closed until complete.
Access to the interior of the UVSD Cabinet, while the lamp is operating, is controlled by a switch that deactivates the UVC lamp when the cabinet is opened. Regardless, personnel must ensure that the UVSD Cabinet light is off before accessing the interior of the UVSD Cabinet.
Once the cycle time lapses, open the door and remove the disinfected items from the UVSD Cabinet.
After sterilization, items may be stored in the plastic hanger bags to prevent contamination.
CAUTION- UV Radiation Hazard
WARNING: DO NOT OPERATE CABINET WITH DOOR OPEN!
WARNING: Before installing or performing maintenance or service on the UVSD CABINET, DISCONNECT from main power. Electrical shock can cause injury or death.
WARNING: Never expose eyes or skin to ultraviolet light from any source. The UVSD CABINET MUST be DISCONNECTED from power source before performing maintenance or service. Personal injury may result.
WARNING: Use only specified replacement lamps with your UVSD Cabinet. Use of an incorrect lamp can result in damage to the cabinet or lamp, or a failure to disinfect properly.
WARNING: Germicidal bulbs should not be used in any fixture or application that was not designed specifically for UVC lighting, to prevent exposure to humans or animals.
WARNING: Take precautions to ensure small children and animals are not left unattended around the UVSD and are not allowed to climb into the UVSD Cabinet.
UVC exposure has the potential to cause redness, dryness, burning, blistering, and itching of the eyes and skin. Avoid eye and skin exposure.
Do not attempt to move the cabinet while in use.
While the UVSD Cabinet is designed to be effective without damaging plastic-based materials, over time, discoloration of lighter plastics placed in the UVSD Cabinet may occur. Plastics closest to the lamp bulb will be the most vulnerable to discoloration.
The cabinet is designed for use at ambient temperatures, between +40 and +104 degrees Fahrenheit (+5 and +40 degrees Celcius) and should be protected from moisture, humidity, and condensation.
Risk of property damage or injury; Adjustments, Alterations, Service, and Maintenance must be performed by a qualified service technician.
Care must be taken to avoid tipping when moving the UVSD Cabinet.
Food, Beverages, and Expendable goods should not be placed in the UVSD Cabinet.
The germicidal lamps installed in the  UVSD Cabinet have an effective life of 2 years (18,000 hours). After this time period, the lamp should be replaced in order to maintain effectiveness. The lamp may appear to be emitting light even after 2 years; please note that while the lamp may emit visible light for longer than 2 years, the UVC light output drops below effective disinfection levels after 2 years.
Before replacing the lamp, ensure that the power is completely disconnected. Unclip the old lamp and remove it, then install and connect the new lamp.
Do not dispose of the lamp in common trash disposals.
The UVC lamp contains a small amount of mercury and should be disposed of in accordance with local environmental regulations.
UV Sterilizer and Disinfection Cabinet Warranty
The UV Sterilizer and Disinfection Cabinet is warranted against defects in material and workmanship for a period of 1 year from the date of shipment.
In the event the lights in the UVSD Cabinets are not functioning properly be sure to verify the following:
The UVSD Cabinets is plugged into a working power source
The power switch is in the on position
The lamps are functioning and have not burned out
The door latch safety button is functioning properly
FOR FURTHER ASSISTANCE or MORE INFORMATION CONTACT XSF at 1-903-438-1100, or contact one of our distributors below.
Master Stocking Distributors
Industry Accepted Kill Chart
It is proven that UV light will kill any DNA-based organism given enough dosage and that UV light breaks down DNA over a cumulative basis. 
The tables below show industry-accepted required times to kill up to 99.9% of a number of organisms, molds, bacteria, protozoas, virus and yeasts using the XSF – UVSD Cabinet.